sabor extremo para el gozo culinario
extreme flavor and culinary bliss
Entregamos comida desde San Juan a Caguas
Enviame un texto al 787-725-7145 para recibir el menú de la semana.
Our delivery route is from San Juan to Caguas. Drop me a text at 787-725-7145 o an email to receive the menu.
Añádele germinados a tus platos para que brillen
Sprouts really make all your dishes shine
Germinados cosechados frescos por pedido
The highest quality of freshly harvested sprouts
Girasol / Sunflower
Hierba de trigo / Wheatgrass
Rábano / Radish
Frijoles mung / Mung Beans
Vegetales curtidos listos para condimentar
Pickled vegetables ready to add spice to your life
Fermentados bioactivos y curtidos para tu salud y digestión
Fermented nuts, vegetables, and beans for your gut health
Yogur de pajuil / Cashew Yogurt
Repollo verde fermentado / Green Cabbage Kraut
Shiro Miso / Shiro Miso
Tempeh de frijoles /  Bean Tempeh
Rábanos curtidos / Pickeled Radishes
Proteína vegetal para una nueva era gastronómica
Vegetable protein is the new black
Rica proteína vegetal para comer en el momento o para congelar
Delicious plant protein ready to serve or freeze
Seitan / Buddha Meat
Salchichas / Bean & Vegetable Sausage
Croquetas / Bean Nuggets
Fideos sobas / House Sobas
Picadillo de seitan / Cuban Seitan
Postre repleto de buenas calorias
Dessert packed with good calories
Bizcocho de chocolate y coco / Chocolate Cake with coconut meat
¿Quieres tomar un taller o venir a comer al El Rancho
Te invito a que vengas a germinar y comer en mi rancho. Mi taller más popular es el Taller Relámpago de Germinación. Además del Taller Relámpago ofrezco una variedad de talleres de comida natural. En todos se come súper rico.
If you like to spend some time with me in the kitchen my menu can include a wide range of plant based and fermented options. Lunch and demos are a fun and delicious way to learn.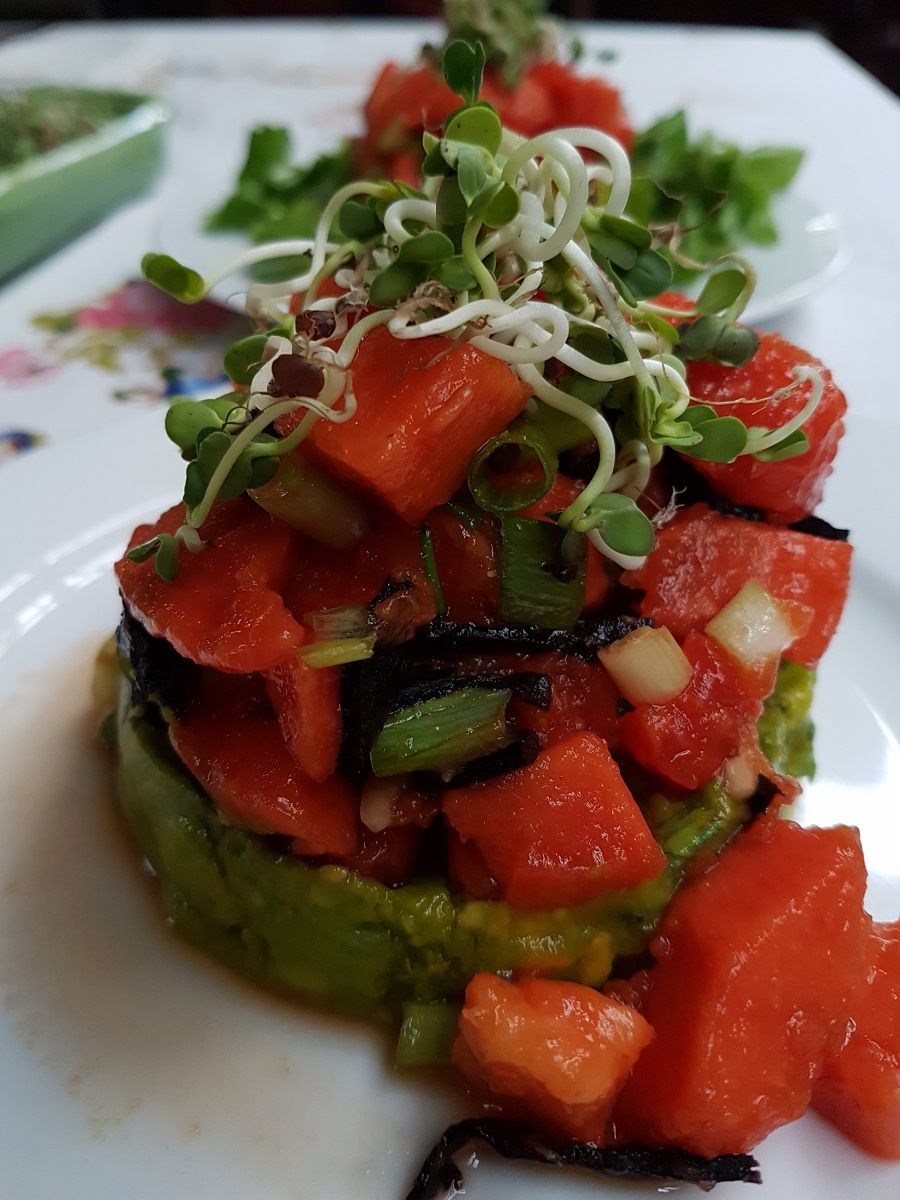 Escríbeme una nota si tienes hambre / Drop me a note if you are hungry